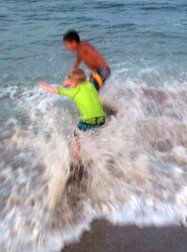 This weekend was a lot of fun!
It started off with Cub Scouts on Friday night.  Some might have called that a curse, as it would have been nice to leave after school – but I think it was almost a blessing.  It allowed me to pause … pack and leave early on Saturday morning.
The trip started off with a 'hiccup'.  Neither of my wonderful children can manage to ever remember (or find) head phones.  It's a little challenging to find headphones at 6:00 am, but after a stop at the gas station, Kroger, not finding a CVS – we found a Rite Aid and it had what we needed.  OFF WE GO!
We set the GPS on Ponte Vedra Beach, Florida and off we went.  The drive was peaceful and uneventful.  Realistically, isn't that exactly what you want out of a drive?  We arrived at 12:40 ish and lunch wasn't an option for Derek and Max.  They were on a one track mission – GET WET!  Fortunately, my aunt and uncle have a ABSOLUTELY BEAUTIFUL pool in their backyard.  It took the boys less than 15 minutes to get into swim gear and jump in.
A while later, we headed over to the beach and hung out … Max started his sand castle action which would be a theme through the weekend.  Give that kid a shovel and he will go crazy!  The picture is a shot from that evening.  The lower light and a camera phone didn't do so well – but hey, it shows how much fun they are having!
I could basically just tell you we alternated between the beach and the pool – over and over for the rest of the weekend.  Yesterday morning, my aunt and cousin, Spencer took the boys to the beach.  My uncle John and I headed out for 20 miles on two wheels.  It was nice (and moist).  I will say I am doing MUCH better adapting to riding in Florida after a number of years in Georgia.  Something about the similar humidity and elevation?  Probably.
Anyway – the drive home was equally uneventful.  Fun was had by all three of us and Max even cried and wanted to come back soon, and stay longer.
It is kind of strange that my cousins are 6 and 9 years older than Derek, 24 and 27 years younger than me.  I think it confuses the boys a little, but they love playing Wii with Spencer and Austin!
The only bad thing that happened this weekend – I guess Max has a case of swimmers ear 🙁  poor midget.  I'm sure he will be back in action before you know it!
A great weekend with my kids.  They were nearly angels in the car.  An awesome trip on all fronts!