Let's frame this up a bit… Last year, Derek got a great opportunity to go to a summer camp.  It was a two week camp in West Virginia.  As near as we can tell, the kids are very well taken care of but get to play for about 23.5 hours a day… the other .5 is spent doing chores that they don't mind.  It's kind of a kids dream come true.  Max – at age 5, was old enough to SEE the fun, and want to do it, but not old enough to go.  He was PROMISED he could go this year.  Great!  Let's do this!  He was all signed up and ready to go.  He spent a week with Grandma (my mom) and Aunt Shawna (my sister) and by all accounts had the best week he has had in forever!  He was in heaven.  He was slate to go to camp TODAY!  Well…. here's the story of the past 48 hours of our lives….
On Friday night, a huge storm rolled through West Virginia, Virginia and Maryland.  It was by all accounts, fast and furious. It left a powerless path of destruction behind.  Max called us at 10:30 on Friday night afraid to sleep because he couldn't use his sound machine… The power was out at my sister's house.  Probably the first blackout he could remember.
Well, as the day progressed, power was off but we didn't think twice.  Max, Shawna and Mom headed off to a company picnic specially set up for kids.  Max continued his "Dream Week" in preparation for for his DREAM week at camp.  We were all really excited for the midget!  He was about to have so much fun…. At about 5;30 yesterday, we got an email from the camp saying due to the simple fact that the storm was so devastating – and they were still 4-10 days away from having power, they were cancelling their "Dream Week".  I quickly scrambled for a backup plan to ease the pain of a year long dream being shattered.  While it wasn't summer camp, a week with Sarah's parents could ease the pain?  It seemed to be a good idea.  By late last night, his biggest concern was that Sarah's dad, Jay, watches too much news and he might not be able to follow the Olympic Trials.  It was a heartbreaking situation to tell him his camp was cancelled.  A lot of prayers, hopes and efforts were going on in the background.
I called the camp owner and pleaded with him – can Max PLEASE come, his stuff was already there – he was ready to go.  All he had to do was show up and sleep in his pre-made bed.  The catch is, the camp didn't have internet, phone or power (STILL).  I emailed – as they were checking email 2-3 times a day, and voicemail.  I called and pleaded… but I was afraid my messages were not being heard (probably because there is no CELL service at this camp and there is no PHONE service either?)  We played around with logistics, we played around with ideas and Shawna, Jim (my dad), Jay and Gray all agreed to meet in Kingsport, Tennessee and exchange Max.  As sad as this was, it seemed like the best option.  The plan was set to work out.
Sarah and I had commitments at church, so we got up and took care of that and went on about our business… I texted both cars, thanked them over and over and over and over again.  After all, I was being saved 15-17 hours of driving by family members, my son was being well cared for – and while it wasn't his first choice – it was something he would enjoy.  Still – my bunchkins dream wasn't coming true – sadness.
WELL… about 11:30, we got the call.  Unfortunately I missed it, but … it was from the camp owner.  In summary – "BRING HIM!"
I called Shawna and said "How would you like to turn right and head to camp, drop Max off there?"  She enthusiastically said "Is that an option?"  I explained the situation.  Sarah called her parents, they pulled over.  Dad parked and waited for instructions.  I grabbed a computer and began sorting out directions.  See – there is one huge challenge – the Camp doesn't have an address you can look up in a GPS and not knowing where Dad was – how does one give directions?   Well – fortunately we all have Garmin GPS units.  I told the the search I used and he said "There are 2 entries that came up".  I told Dad to look at the second one, he did and I said "92 is coming in from the northwest, it comes into a triangle and there is a river flowing through the map.  He said "Yes, I see that!"  I said "GO THERE AND LOOK AT THE SIGN!"  He said "Got it!"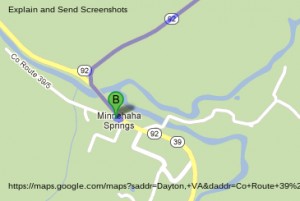 They gave me the "privilege" of telling Max.  I will never forget him yelling "YAYYYYYYY!!!!!!!!"
Apparently, for the next hour or so he talked about all the things he hoped to do….  He was so happy and talking non stop!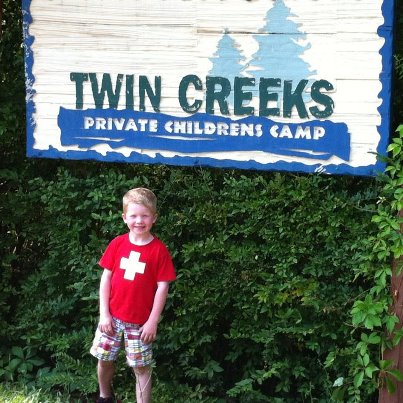 A picture is worth 1000 words.  That smile is worth every bit of effort that everybody put into this!  I'm not going to say it wasn't stressful, I didn't cry … but at least I got to have a tear or two of joy when I heard he was there and having fun!  All in all, about 900 miles were driven today.  Had the email never come, it would have been closer to 180…
I do love my family – and I consider my in-laws, my family!  Everybody is awesome!