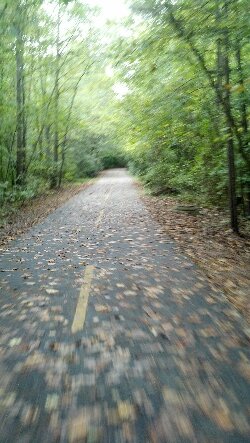 The internet, my 4 blog readers, my friends on facebook and even a few followers on Google+ have watched me lose weight, they have watched me gain weight.  They have helped me (more than they probably know) to stay motivated, to do the right thing and overcome bad days, lack of motivation and other issues associated with my quest to get and remain healthy. 
Not all that long ago, I stopped posting my runs, rides and information about my struggles with weight.  I'm not going to go into a lot of details about why, but I think this was a mistake.  My friends and my extended circle of friends have been very helpful in the past and I enjoy the support.  You might say I'm fishing for 'atta boy' comments, and maybe I am.   If you don't want to support me – that's okay… I'm not going to defriend you or anything insane, but I do know there are a bunch of people who will +1 or like my posts and be there when I fall, too.  It's with that in mind – that I am going to tell you, I'm back!
So – there are two things going on in my life right now.  I'm training for the Silver Comet Half Marathon on 10/27 – this is just a simple step in the path on my way to the Georgia Marathon on 3/17.  I'm not shooting for any particular time, I'm just hoping to have a good run.  Of course, I'd like to set a PR, but right now – I'm just not running very fast.  We will see.
I'm also doing the Clean Air Campaign Bike To Work Challenge.  I'm trying to ride my bike to work every day this month.  Unfortunately, on 10/1 the weather was REALLY bad and riding to work was not on my list of things to do.  I'm sitting at 50% success rate, which will climb to 66% in about 30 minutes.  The commute from my new place is really easy to get to work.  Coming home – its not so easy.  Yesterday, I took what I thought would be a 15 mile route home – it turned out to be about 23.  No harm done!  It's all about the challenge – until 3/17 – I really don't have many cycling aspirations!
Finally – I'm trying to figure out how to get back in front of my weight.  My clothes are mad at me and I'm more mad.  I've tried a lot of things but none of them are getting much traction.  It completely depresses me and this is one of the first times I have publicly stated that.  I'm considering going back to weight watchers, it's free to register – but simple calorie counting might work.  I don't know.  Expect more talking about that in the upcoming weeks/months. 
Not a lot of action here – but hopefully I'll have some more positive action coming up soon!